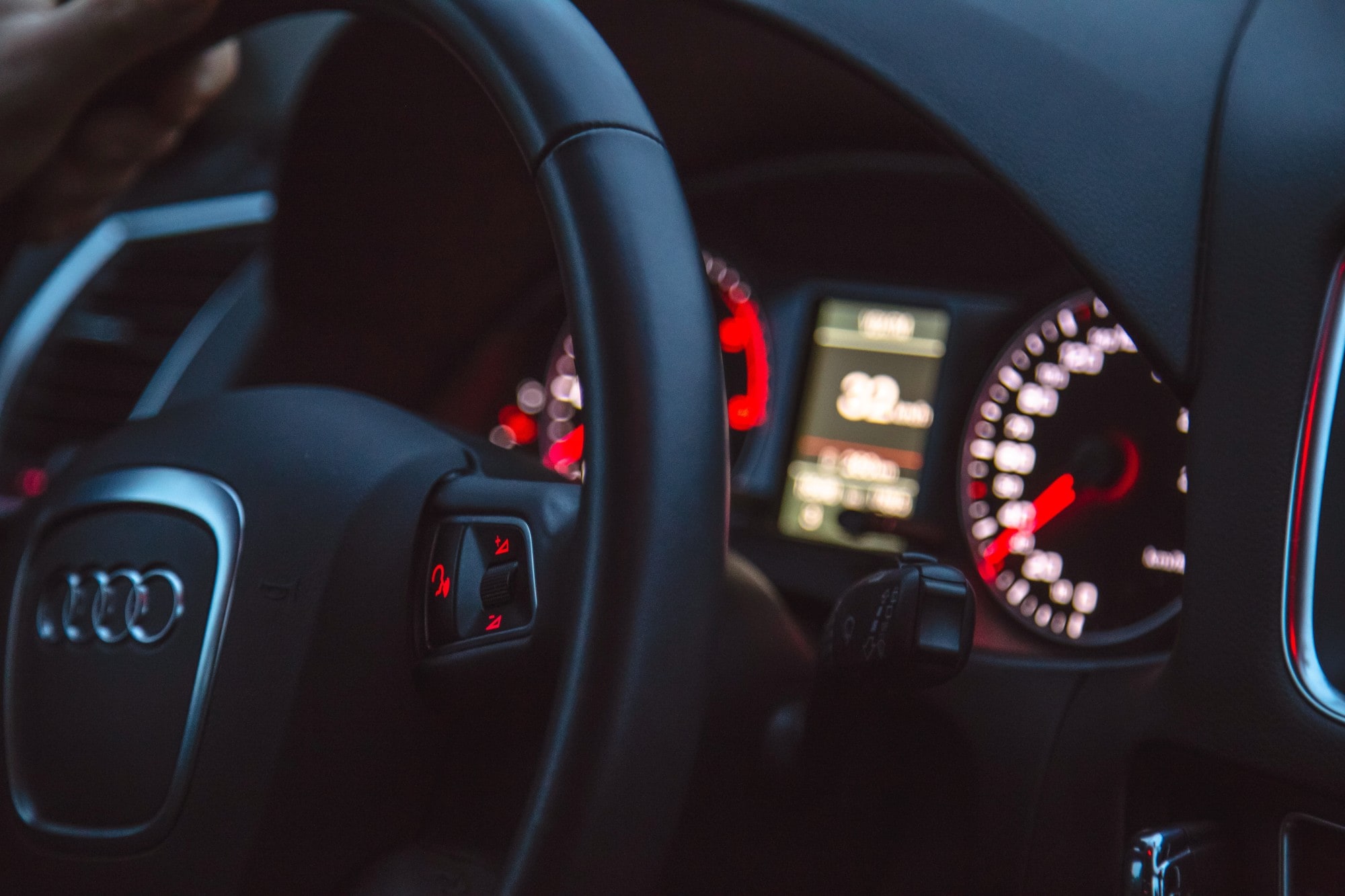 If this is the year of the SUV for you, then look no further than the 2020 Audi Q5. We're talking about a luxuriant, smooth ride with a style that's way ahead of the curve. It's easy to swoon when there's major power packed under the hood and a posh, plush interior within all five doors.
That's precisely what the new Q5 offers.
So, let's talk about why techies, power-hungry drivers, and those looking for comfort all rally around the Q5. From noise control to dash displays that will do everything but heat your road snacks, you'll quickly see why we're swooning so hard.
1. Spacious Interior
Although a sleek, sporty exterior makes the first impression, it's the interior where we spend our lives. The Q5 is so spectacular on the inside that we need to start there. It's consistently reviewed as having the most luxuriant interior in its class.
This plush bus comes standard with leather upholstery and wood trim. In a moment, we will get to all the bells and whistles on the dash, but they sure look pretty framed in rays of leather and wood.
We love that the design is so minimalistic that Audi installed multipurpose switches and knobs. This prevents the dash from looking like the interior of a Peterbilt with a thousand dials and switches and keeps it looking sleek and tidy.
2. Infotainment Center
Again, as a standard feature, you'll find a colorful 7-inch display, a whopping ten-speaker audio system, Bluetooth, an HD radio, two USB ports, and—our favorite—Apple CarPlay. If you have an Android, then you'll also enjoy Android Auto.
Let's get back to that touch screen. Whether you need Apple CarPlay or Android Auto, you'll have a lot of fun experimenting with the infotainment center (when you're parked, of course).
It has a touch screen that you can pinch to zoom just like your phone. You can also write out commands with your fingers. Pretty cool, eh? In the Premium Plus model, you'll even enjoy wireless phone charging. The fewer the wires, the better, in our opinion.
3. Powerful Engine
It's one thing to sit inside a cocoon of luxury; it's another thing to also be able to punch it off the starting line and flaunt some powerful torque. The standard Q5 is super quick with a turbocharged four-cylinder.
That base turbo propels this beauty from 0-60 in less than six seconds. Considering its weight, we were mighty impressed with that. It has 248-horsepower but, again, that torque will get you off the starting line pretty fast.
If, however, you want to go big, then a step up to the SQ5 will get you 349-horsepower and a twin-turbo that boasts a V6 engine. Amidst the power, the Q5 still falls in range with its competition, hitting about 22 mpg city and 28 mpg highway.
4. Top Safety Features
What's it all for if your loved ones aren't safe and sound throughout all those joy rides? It's nice to see the Q5 is packed with safety features that come standard. They didn't put a price tag on keeping your friends and family safe.
You'll benefit from a rearview cam, Audi Pre Sense Basic (which detects imminent collisions), and Audi Pre Sense City (which detects pedestrians and other vehicles that are too close for comfort).
Automatic emergency braking also comes standard for anyone tempted to text and drive, preventing them from seeing that collision up ahead.
Stability control also serves someone who may be paying attention to the road but is about to exceed the handling limits. It'll reduce the engine power if things are getting too dangerous.
5. Seriously Smooth Ride
In the 2020 model, there were some changes made to the chassis. These tweaks create a smoother ride than ever before. When you test drive the Q5, you'll notice that the road and wind sounds are nil.
The suspension that comes in the base model keeps everyone from jostling about, which is pretty impressive, again, given the size and height of the vehicle.
So, while you're jamming on your Apple CarPlay and the kiddos are watching the latest episode of Veggie Tales, no one's going to be shaken like a barrel of monkeys.
6. Sporty Exterior
Given all the plushness and technology on the interior, we're surprised at how sleek and sporty the 2020 model remains. It holds its head high with a prominent shoulder line that extends all the way back to the tailgate.
The Singleframe grille and optional LED headlights also give it a fresh feel. When it's coming at ya head-on, the rounded hood allows you to see just how much speed those wheels can pick up on any given day.
7. Virtual Cockpit
This last part doesn't come basic, but if there's ever a slow day in the dealership, we're sitting in the driver seat exploring the virtual cockpit. It's a 12.3-inch display that offers two different modes.
As you switch in and out of the modes, you're looking at whatever you need at the moment - navigation, audio, or cell phone. But, our favorite part? You can import all your Google Maps data (saved places, etc.) and enjoy full use of Google Earth as you navigate your way through town.
2020 Audi Q5: Made for You
When you finance or lease the 2020 Audi Q5, you'll want to spend more time in the car. Daily commutes and road trips will quickly transform from tedious to glorious. You can listen to your favorite audiobooks, playlists, or podcasts from the comfort of a couple of seats that don't allow you to feel any of the road disruptions.
Ready to take a seat behind that virtual cockpit? Come on down to Audi Charlotte today. We have a full range of Audis to suit everyone's style. But, if you're looking for spacious room, power, and comfort, we know you'll love the sleek packaging of the Q5.
We're always running specials, boasting competitive incentives to get you behind the wheel of your dreams. If you have the time, you should also play around with the new Audi e-Tron when you're here. Electric has gone Audi, meaning you're going to go farther, faster with all its Audi DNA. We can't wait to joyride with you!