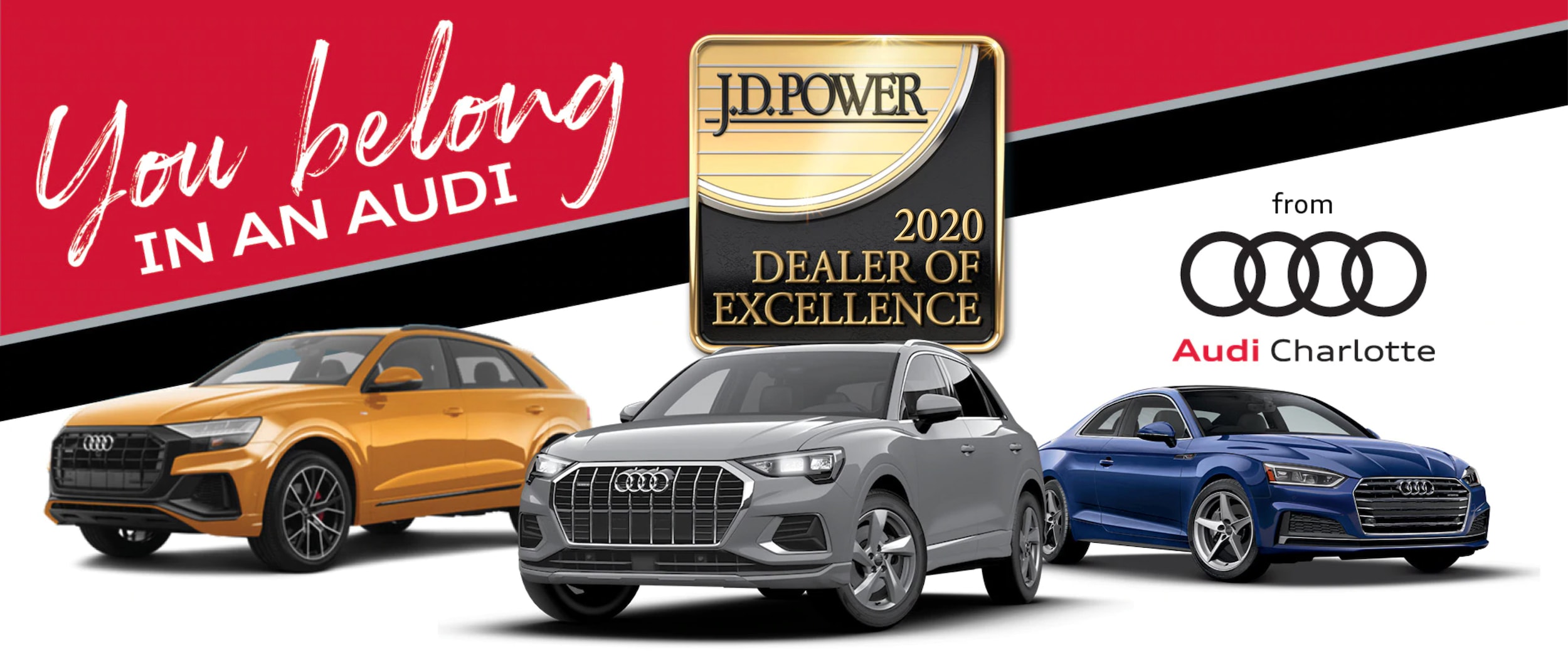 Our team here at Audi Charlotte prides itself on providing a top notch and excellent customer service experience. From the moment you step through our doors, we want you to feel at home. Our employees are available to answer any and all questions, set you up for a test drive, service your vehicle and make your life easier. 

That's why we're North Carolina's #1 Audi dealer, 20 years running.
We're also proud to say that thanks to you, our customers, our hard work has paid off. 
We've been awarded:
Audi Magna Society
Dealer Rater Dealer of the Year
Dealer Rater CSI Dealer of the Year
Dealer Rater Customer Satisfaction award
Audi Winners Circle
Quality Performance Award of Honor
"J.D. Power 2020 Dealer of Excellence for the Customer Sales Experience"
CARFAX 2020 Top-Rated Dealer

Audi Charlotte is the first Audi dealership in the nation to receive this prestigious award from J.D. Power! 
We are proud that J.D. Power, a world leader in measuring consumer satisfaction, has recognized our dealership for our achievements. 
J.D. Power understands how to measure quality and customer service, they've pioneered this art and science.  As you can imagine, receiving a recognition from J.D. Power is not easy.  Audi Charlotte had to pass a three-step process to qualify:
First, J.D. Power uses feedback from more than 25,000 consumers like you to limit the percentage of eligible dealerships by brand. In other words, they consider proportionally more dealerships from top-performing brands for Dealer of Excellence.
Second, interested dealerships must rank among their brand's top performers in key customer satisfaction areas consistent with measurements found in the J.D. Power Sales Satisfaction Index (SSI) Study.SM
Finally, qualifying dealers must pass a dealership audit and show they meet or exceed J.D. Power sales best practices. Those best practices include, but are not limited to:

Listing vehicle inventory and pricing on the dealership website
Negotiating in an efficient and transparent manner
Offering a fair trade-in value
Presenting a clear and easy-to-understand F&I product menu

The J.D. Power Dealer of Excellence ProgramSM
Recognizing dealerships for providing customers with an outstanding sales experience and distinguishing those dealerships as trusted partners for purchasing a vehicle. Certification is designed to highlight select dealerships for their commitment to customer service and assist dealer managers in differentiating their stores from local competitors. From the customer point of view, Dealer of Excellence is a stamp of approval that provides confidence in the new- and used-vehicle shopping experience.
J.D. Power 2020 Dealer of Excellence Program recognition is based on achievement of high scores from automotive manufacturer customer research and completion of an in-dealership best practices verification visit. For more information, visit jdpower.com/DOE

J.D. Power 2020 Dealer of Excellence Program recognition is based on achievement of high scores from automotive manufacturer customer research and completion of an in -dealership best practices verification visit. For more information, visit 
www.jdpower.com/DOE