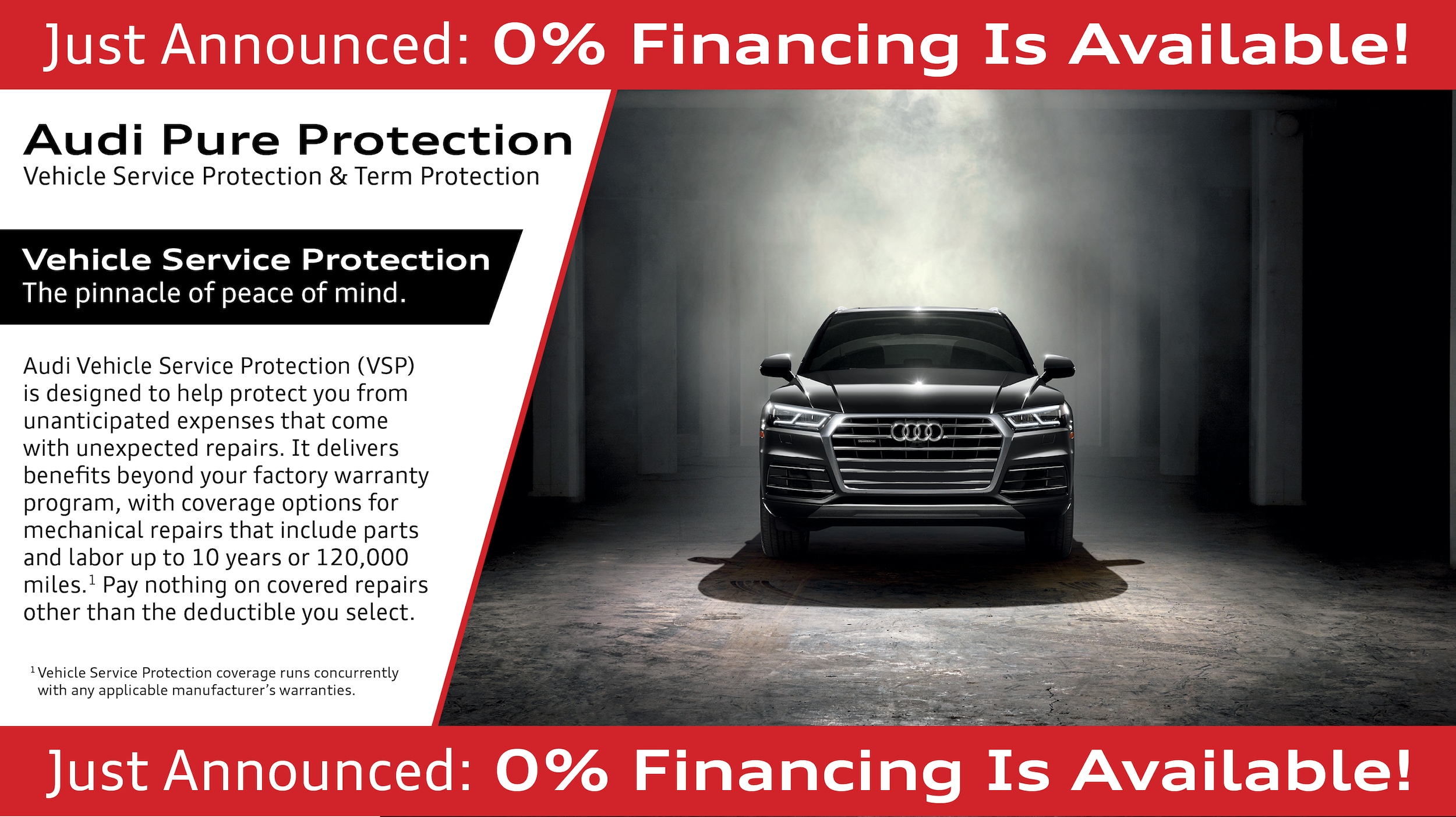 Protection, personalized for you.
Your participating Dealer will guide you through our three available Vehicle Service Protection plans to help you determine which level best suits your vehicle and personal needs:
Powertrain coverage includes your vehicle's engine, transmission, transaxle or transfer case, drive axle(s), and certain hybrid/ electric components.
Gold coverage encompasses Powertrain coverage, plus front and rear suspension, climate control, fuel, electrical, and certain additional hybrid/electric components.
Platinum exclusionary coverage includes all mechanical parts of your vehicle in the event of a mechanical breakdown, unless they are speci cally listed as "not covered" (i.e., maintenance items such as spark plugs and wiper blades, as well as items such as trim pieces, upholstery, and body panels).
Additional benefits:
You'll receive genuine Audi parts and service for your vehicle
Nationwide service available at all participating Audi Dealers or other authorized

 

service providers
24-hour roadside assistance with enhanced roadside benefits, including battery service, flat tire assistance, fuel or fluid delivery, and lock-out assistance up to $100

 

per occurrence
Towing reimbursement of up to $100 to your nearest Audi Dealer or authorized service

 

provider
Rental car reimbursement up to $35 per day for up to ten (10) days if required
Trip interruption coverage up to $200 per day for a maximum of

 

five (5) days if required for a total benefit of $1,000 per occurrence
Deductible options of $0, $100 disappearing, and $250 per visit
Transferable for a $50 fee if you sell your vehicle to a private party
Cancelable at any time; after 30 days, subject to a $50 fee
Coverage exclusions may apply:
Mechanical breakdowns covered by your vehicle's manufacturer's warranty
Mechanical breakdowns caused by accident, collision, vandalism, or weather-related conditions
Mechanical breakdowns caused by lack of maintenance or pre-existing conditions

Platinum coverage plan:
Covered components
Brake pads - Covers one (1) replacement set of front and rear brake pads
Battery - Covers one (1) replacement battery
Belts and hoses - Covers replacement of most major engine belts and hoses
Windshield wiper blades - Covers one (1) replacement set of wiper blades and/or inserts
Wheel alignment - Covers one (1) wheel alignment
Diagnostics and

 

uid replacement Included in conjunction with all covered repairs
Mechanical breakdown coverage Exclusionary mechanical breakdown coverage includes all mechanical and electrical parts, unless

 

specifically listed as not covered in the Exclusions section of the Agreement
Platinum Plus coverage plan:
Includes all coverages listed under the Platinum coverage plan, and adds coverage for one (1) replacement set of front and rear brake rotors.
Additional benefits:
Rental car reimbursement up to $35 per day for up to ten (10) days if required
Trip interruption coverage up to $200 per day for up to five (5) days if required
Transferable for a $50 fee if you sell your vehicle to a private party
Cancelable at any time; after 30 days, subject to a $50 fee
No deductible
Coverage exclusions may apply:
Mechanical breakdowns covered by your vehicle's manufacturer's warranty
Mechanical breakdowns caused by accident, collision, vandalism, or weather-related conditions
Mechanical breakdowns caused by lack of maintenance or pre-existing conditions
Carbon/ceramic brake pads
Carbon/ceramic rotors