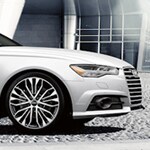 The Audi A6 is well known for being one of the best full-size luxury sedans available today. There are loads of technological features found in the A6 that make it one of the most innovative vehicles in its class.
With the MyAudi app and portal, you can access and locate your A6 from anywhere. Thanks to its navigation and GPS location system, the Audi A6 will make finding an unknown destination easier than ever. It even helps find your car in a crowded parking lot!
The Infotainment center located on the center console makes controlling your Audi A6 a breeze. You can scroll through the different features on the touchscreen as easily as a tablet device.
With so many great advancements in the Audi A6, it is clear what makes it one of the most desirable vehicles on the road. Experience the benefits by test driving an A6 today.